Jill Johnson på konsert & Kongress i Uppsala
2012-02-18
« Tillbaka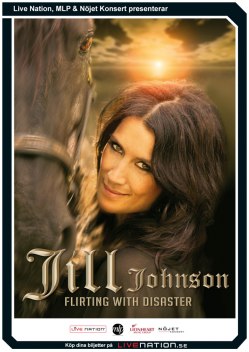 Nu är Jill Johnson tillbaka i storslag med ett nytt sound och det nya albumet "Flirting With Disaster" som är lite naknare, aningen rockigare och enormt svängigt.
Genom åren har Jill haft många utsålda turnéer. Det har varit monsterhits som "Crazy in Love", duetter med bl.a. Lionel Richie, Lisa Miskovsky, Björn Skifs, Ronan Keating och Chip Taylor. Hon har hyllats som sommarpratare, varit programledare för Melodifestivalen och har en hel vägg full med guldskivor. Jill har för länge sedan hittat hem på livescenen. Och hennes publik och trogna skivköpare har för länge sedan hittat henne.
Jill Johnson besöker Uppsala på den exklusiva sommarturnén "Flirting with disaster" Summer Set!
Utomhuskonsert
18-års gräns
DOT Music arbetar som Platschef på detta evanemang.